If you've ever been lucky enough to witness Bella Hadid do 3 cartwheels in a row to Maureen's "Tic", wearing a super tight, sexy AF Mugler dress, credit goes to Casey Cadwallader as he made this unlikely situation happen in one of the brand's latest filmed shows. The designer has created many more such moments since he was appointed artistic director of the French house. With a degree in architecture from Cornell University and a track record working with brands such as Narciso Rodriguez, Marc Jacobs, Loewe and Acne Studios, this young US designer with a passion for fashion, music and pop culture has succeeded in reminding the younger generation of what Mugler was all about by bringing its codes up to date. As a result, the brand can boast of having re-entered the top 5 of the most prominent and exciting houses in the fashion game today. Whether through his sleek collections, his eclectic casting choices or his assertive stance, Casey Cadwallader has charted a new and relevant course for Mugler, while leading the industry into an era of fashion that is more innovative, spectacular, inclusive and authentic than ever.
MIXTE. You have now been at the helm of Mugler, the iconic French label famous for delivering true pop culture moments in the 1980s and 1990s, for just over four years. What is your first memory of the brand and its creator, Manfred Thierry Mugler, who passed away earlier this year?
CASEY CADWALLADER. I'm originally from New Hampshire. The only culture I had at my fingertips at the time was TV, especially MTV. I remember seeing George Michael's « Too Funky » video, in which Thierry Mugler had collaborated. At the time, I didn't realise that the models in the video, such as Linda Evangelista, Eva Herzigova or Tyra Banks, were wearing his designs. What I remember is a musical and visual slap in the face. That's when Mugler first made an impression on me, unconsciously…
M. How would you describe the brand's essence?
C.C. I would say that audacity is a key factor in the Mugler identity. It's very « in your face » and I think the word « risqué » in French sounds particularly good to define it. The silhouette is very sharp while still being in touch with the body and its contours. This gives a strong impression of empowerment: when you wear Mugler, you feel stronger, more determined, more powerful.
M. How does your world and your personal aesthetic relate to Mugler?
C.C. It's a very sculptural brand that skillfully mixes glamour and tailoring. As someone who studied architecture, I've always loved that style in fashion, as well as sexy dresses, minimalist looks and more maximalist silhouettes. So I knew that I could have fun coming up with something exciting and coherent.
M. What was the main challenge to take up in order to bring your vision of the brand to life?
C.C. It was to present a project that echoed Mugler's history and archives without being a copy of what had been done before. What should be kept or amended? The idea was really to understand the DNA of the brand and what it represents, and then to combine it with today's cultural codes. Once I had all these components, I included key Mugler elements: strong shoulders, prominent curves and hips, accentuated waists, corsetry… In short, things that make you want to show off, to look good. Mugler is clearly not for chilling on a sofa, but for going out and kicking ass. It's a moment of total power and absolute fierceness.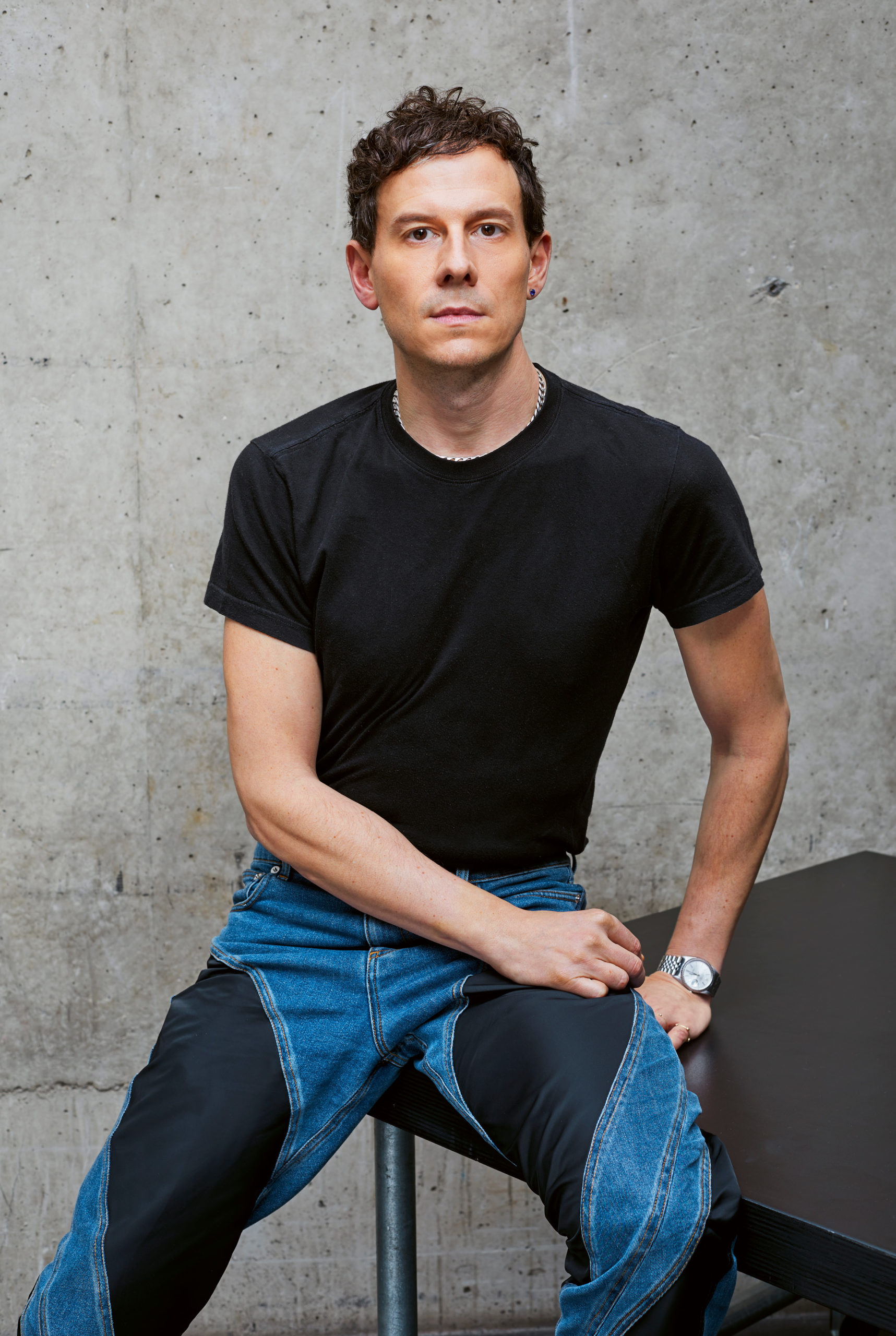 M. There is also a very kinky side to your creations, more so than before.
C.C. The kinky aesthetic has always been part of the Mugler identity. And yes, I do think I have a bit of that in me. If anything, working for the house has brought it out more. It pushed me to be sexier, to present bolder and more audacious ideas, notably through my choice of personalities to embody the collections.
M. Precisely, Mugler is known and renowned for highlighting and celebrating different body types, gender, sexuality, size, age… Most often through charismatic and strong-minded individuals, such as Black singers Yseult and Lala &ce, trans actresses Dominique Jackson and Hunter Schafer… Where did you get this desire to offer such a strong and diverse cast?
C.C. What I believe in must be reflected in my work. The reason I work with these people is because I love them, admire them and believe in them. I want to support them and give them a platform. Some might say that this is in line with a trend of diversity and commitment, but it's something that has always been a part of me. Most designers will choose to work with such and such a model because they deem them to be cool or beautiful, without actually caring about them or interacting with them at all, and without knowing who they are altogether. I could very well choose the perfect, neutral models of the moment to embody the brand, but my approach is much more personal. The people I dress are people I respect and have a relationship with. It's like a family.
M. What do they all have in common?
C.C. They represent a different kind of beauty. And it's not just about their features, but also about their attitude. All of them are resilient people who have faced difficult things that made them stronger in one way or another. When you are discriminated against, you struggle all your life to know yourself, to find your place in society, to define your role within your family or your circle of friends… Paradoxically, these experiences allow you to blossom and come out of it stronger and more fulfilled. For me, it's about giving new references of what is considered beautiful and powerful. We have to break the diktat of a fashion made for the elite, the rich, the slender, and put the spotlight on other faces, other stories and journeys while showing the majority of people that fashion can be for them. In the end, what's the point of fashion? It's to feel better and to have fun. If more people identify with what I convey through Mugler, my job is done.
M. Would you define yourself as a committed person?
C.C. Yes, in the sense that being committed means working and doing things reflecting who you are and what you believe in.
M. In a post #Metoo, post George Floyd society and in the midst of a health crisis, do you think a fashion brand should be committed?
C.C. In my opinion, every house should have a specific type of cause to defend. Look at Gabrielle Hearst at Chloé, for instance. She is very passionate about sustainability and sourcing her products because that's what she believes in, and I respect her for that. All brands have a responsibility to do something good, to convey a positive message. The problem is that many brands still position themselves on these issues for other reasons, because it's fashionable, a trend to follow… And it shows.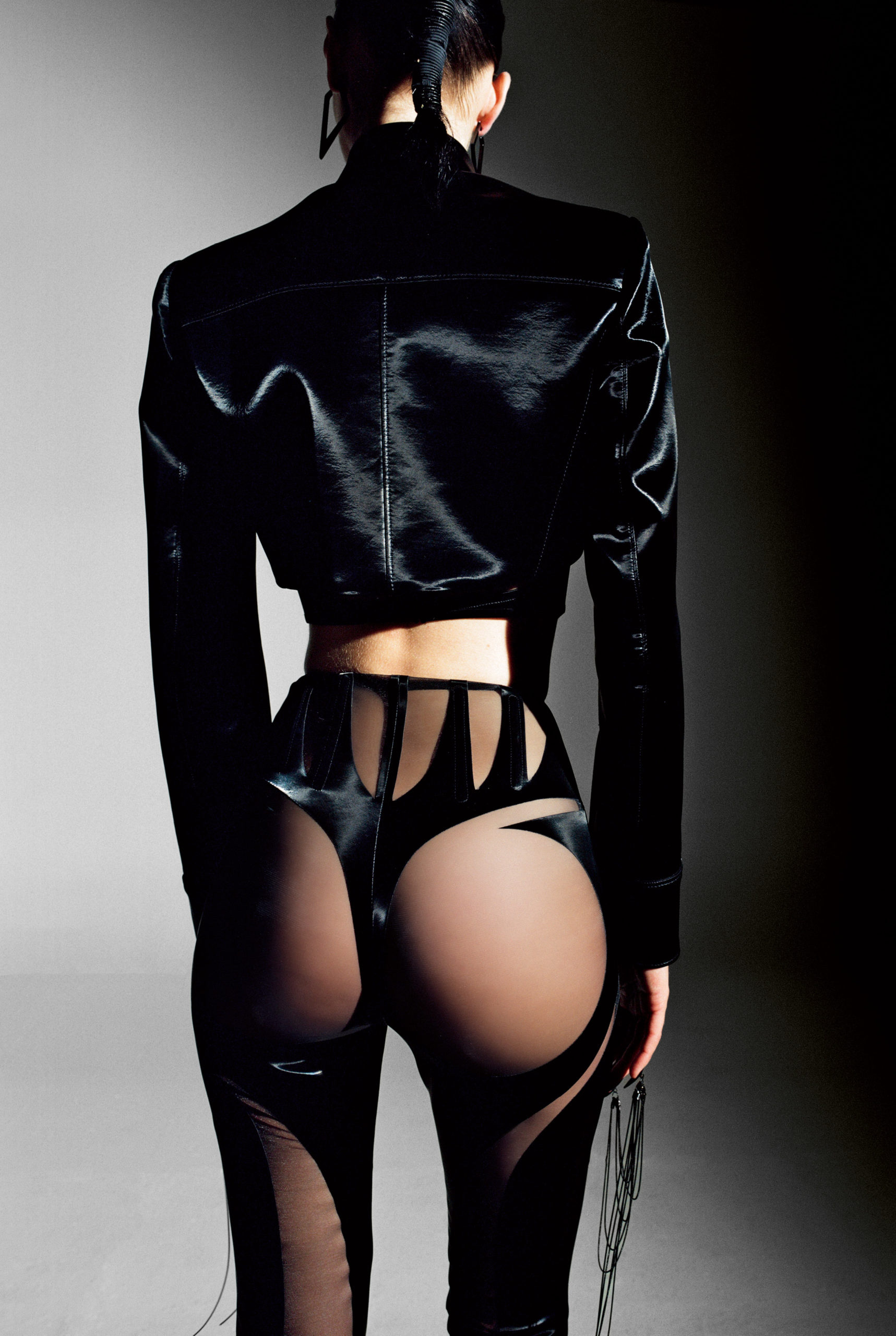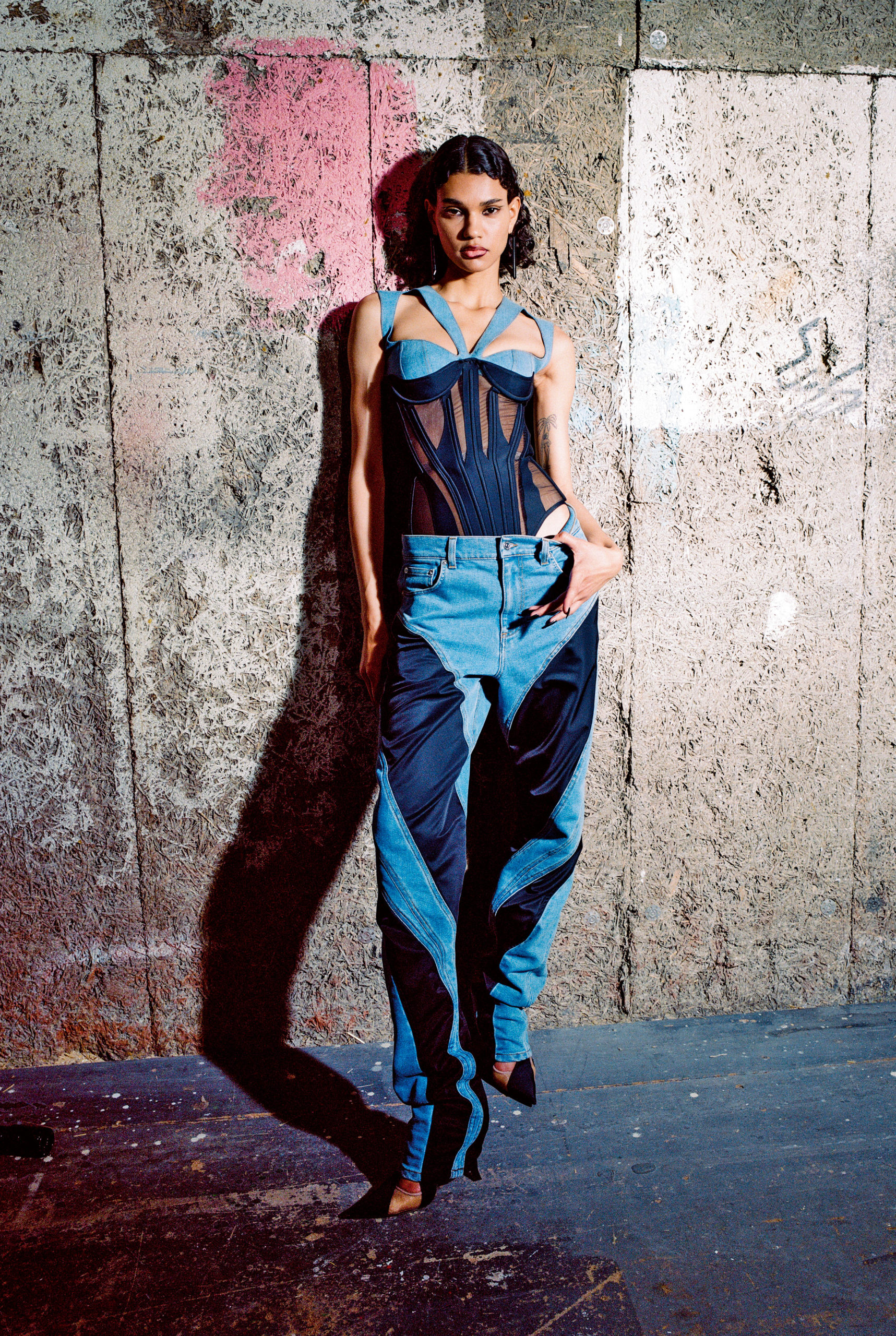 M. In this particular context where many elements have to be taken into account, to what extent has your creative process evolved? Isn't there a form of pressure?
C.C. It's true that many things come into play. It's quite intense, you can't approach it without giving it a good thought. You have to take care of yourself and sleep well at night to be alert and aware of several parameters at once. Sometimes you can feel influenced, forced to do this or that. I think you have to stay active and alert to other people's opinions. It's a daily struggle to impose your vision. You have to fight constantly for the aesthetic, the design, the casting, the price… It takes a lot of energy and determination. The good thing about Mugler is that no one is afraid to try new things. I have a lot of freedom, and that means a lot to me. It pushes me to innovate more and to shake up codes and standards. Especially since no one has ever stopped me from making decisions. Had that been the case, I would have gone crazy and fought tooth and nail for my ideas.
M. This freedom and determination is particularly striking in your filmed fashion shows, which have clearly made an impression in recent seasons thanks to their innovation and creativity. How did you achieve this?
C.C. It all stemmed from the lockdown. The pandemic gave me time to think about what new things could be done in this context. A lot of brands presented very conventionally filmed shows, I hated it. It was clean, well done, but deadly boring. From then on, I forbade myself to make a boring film.
M. How did you proceed?
C.C. I remember sending a brief to my team that said, « I want one half of the show to be classic and the other half to be 'fucked', » just like that (he laughs). With the TORSO directing team and stylist Haley Wollens, we asked ourselves what would be really fun, yet glamorous and chic. We knew we wanted something twisted, but also engaging with catchy moments every 30 seconds or so, whether it was the camera glances from the models to the viewers, the reverse rewind editing, the soundtrack… I wanted people to be truly held in suspense, almost hypnotised by the image and the show. It took hours and hours of brainstorming, directing and editing to find the right angle, the right look, the right shot. So much so that some moments even had us laughing. And if we were laughing, so would the public. The first Spring-Summer 21 video show was a success, as was the Fall-Winter 21/22 that followed. The question is how we can improve on that.
M. In your opinion, is the traditional fashion show format still relevant nowadays?
C.C. I'm not saying that I will never go back to a classic format, a real show with an audience. But, in my opinion, the video brings something more. You can see the clothes better and it gives me the power to tell you what to look at. It's like the ultimate curation. Add to that the effect of the editing and the attitude, and you get a very strong result that would never happen on a regular catwalk. In fact, I want people watching my show to feel the energy of the models wearing the clothes. How do you get that vibe in a classic catwalk show? I don't have the answer…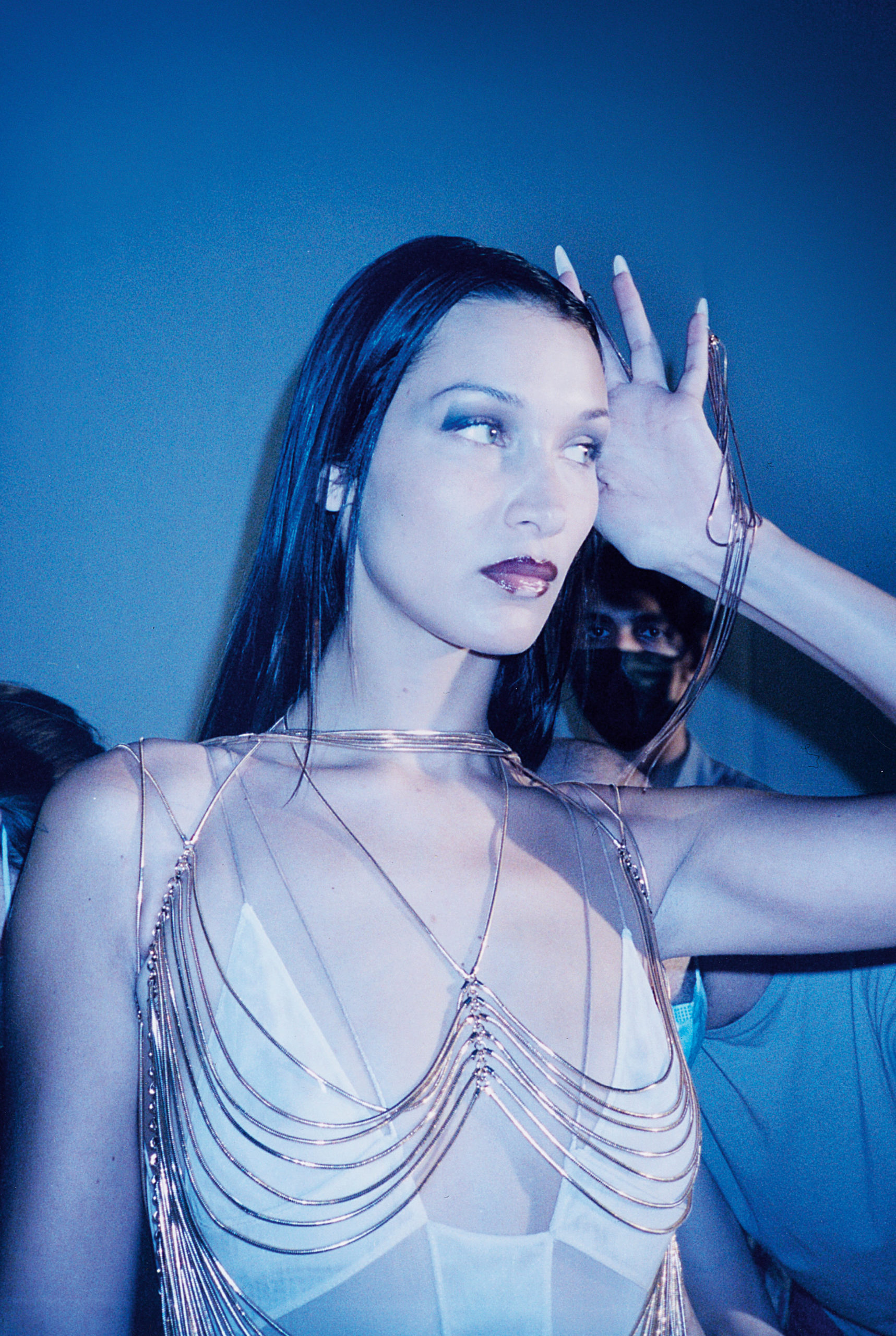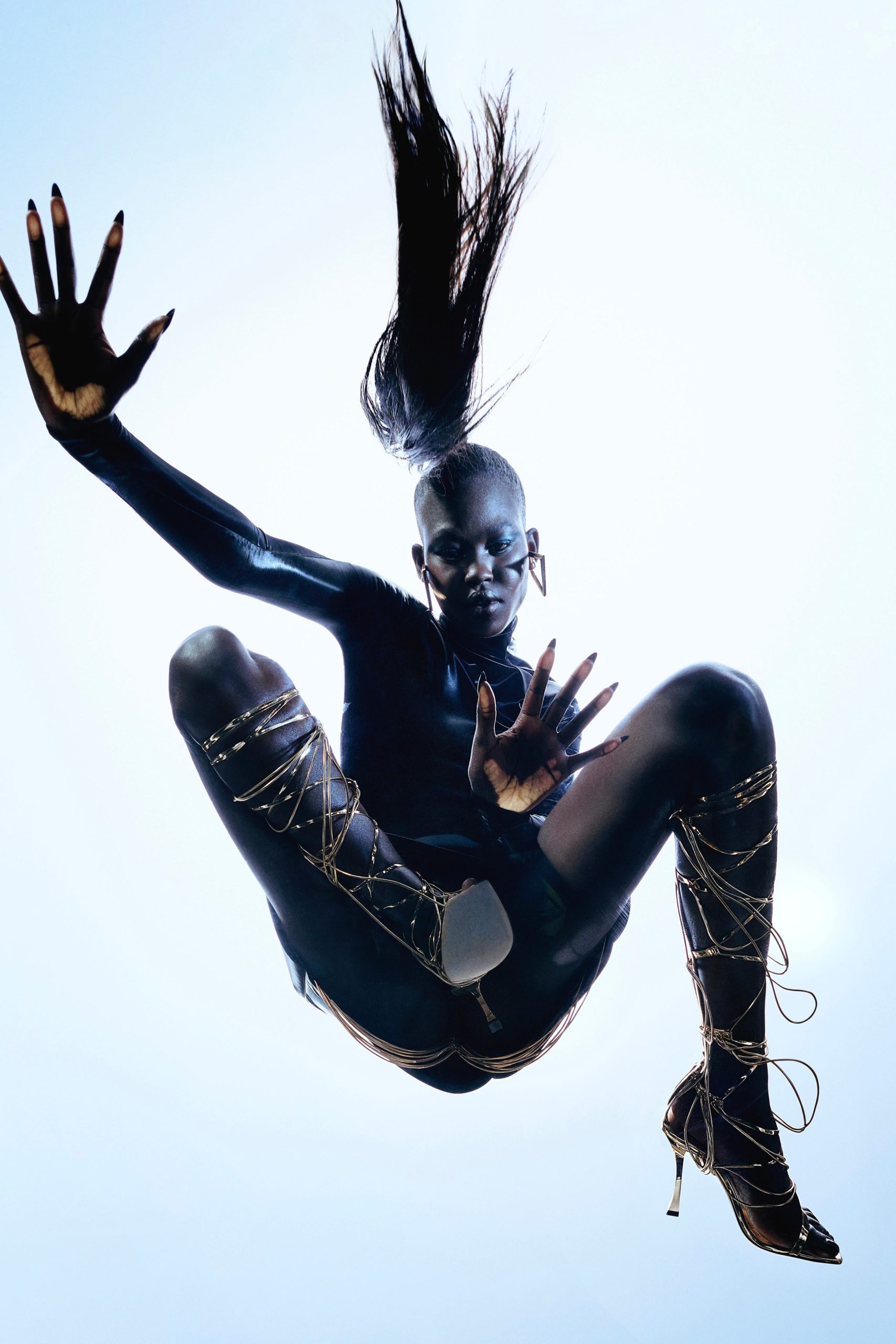 M. In your latest shows, we get the sense of finding a theatricality close to that of Thierry Mugler's fashion shows, famous for being real performances.
C.C. That's right. We were inspired by the drama of the 1980s and 1990s shows, but we upgraded it. Again, we didn't want to copy and paste the past. So rather than having a model walking around and casually taking off her jacket, we have a model proudly strolling around and throwing her fucking jacket across the room. Rather than having a model simply spinning around, we have a model doing cartwheels and falling into the void!
M. What happened to this sense of showmanship in today's fashion industry? How do you explain the lack of theatrics and drama, which still characterized some of Galliano's or McQueen's shows up until the 2000s?
C.C. This can be explained by the fact that fashion has become a business in its own right since the brands were bought by financial groups. Everything has become much more serious… But I think we can bring that vibe back, especially when we see that the big houses that have the means don't really offer anything special in terms of emotions and sensations. Most of the time, they prefer to create monumental sets to show off, only to destroy them as quickly as they had them built.
M. What are the upcoming projects for Mugler? How do you plan to continue developing the brand?
C.C. Our first shoe line, in collaboration with Jimmy Choo, is coming out in the spring. They were the ones who approached us. I met the artistic director, Sandra Choi, and we got on really well. We thought we should definitely design shoes together. It was a great experience to combine the expertise and elegance of Jimmy Choo – one of the best shoe designers in the world – with the boldness of Mugler. The campaign we shot is just insane. I can't wait to unveil it… Besides that, we're very happy because sales have increased a lot. We've recently opened several new shops around the world, and we're planning to launch our first line of bags and accessories this year. We are also putting a lot of energy into creating custom looks for celebrities. We're keeping pretty busy, alright.
This article was originally published in our spring-summer 2022 issue MIXTE: COMMITMENT, in february 2022.