Cotton and satin jacket, Brunello Cucinelli. Cotton trousers, Dior Men. Necklace, Personal.
In 2018, Guillaume Diop joined the corps de ballet of the Paris Opera. 3 years later, this young dancer aged 21 is performing roles traditionally given to Danseurs Étoile. As talented as he is humble, he is also actively involved in the examination of the racist biases of the 300-year-old institution.
For someone whose rise to fame is described by his agent as « meteoric and brutal », Guillaume Diop shows up to our meeting looking rather serene. His body, usually stretched under his tights, seems relaxed under a down jacket barely protecting him from the icy gusts of wind blowing around Opéra Garnier that day. His head, capped with a durag, isn't swollen with the glory he was crowned with after receiving the Cercle Carpeaux dance prize a month earlier. It must be said that this distinction, awarded every year since 1982 to "a dancer from the corps de ballet of the Opera excelling in choreography and stage performance during the season", is the logical continuation of a rather exceptional career, and not only because his father would initially have preferred him to take up another sport. After training for six year at the Opera's dance school (and a short internship at the Alvin Ailey American Dance Theater in New York), he was awarded the rank of coryphée, the second of five in the institution's hierarchical order, which extends from quadrille to étoile. And notwithstanding the rigorist perception of the ballet community – which you certainly owe to the joint efforts of Natalie Portman and Darren Aronofsky in Black Swan – this hierarchy is clearly more flexible than it seems. Indeed, Guillaume Diop's greatest achievement to date is to have danced, on several occasions, and because some of his colleagues had been injured or tested positive for Covid-19, roles usually performed by much more seasoned artists: Romeo in Romeo and Juliet in the 2020-2021 season, and Basilio in Don Quixote for the 2021-2022 edition.
An entry into the big leagues was also made possible by a remarkable performance in a Jeunes Danseurs show (Young Dancers, translator's note) – a performance in which the opera gives new recruits the opportunity to « shine on the Palais Garnier stage in roles traditionally danced by étoiles ». A performance that Guillaume still struggles to believe in to this day: « It was already huge for me to be a substitute for these roles, » he says with a smile. And then, this dancer, who is a friend of mine, got injured, and so they pushed me forward. When it happened, I thought they would call someone else. It all happened so fast, I didn't have time to realise. I just thought, 'OK, let's go'". But while at the time of our meeting, he has only one more performance of Don Quixote to go, this difficulty in processing what is happening to him certainly doesn't prevent him from stressing. « I appreciate how lucky I am to be given this exposure, and the enormous trust that is placed in me. It definitely puts pressure on me: I'm 21 and I have starring roles. I think most people coming to the Opera don't care that I'm a coryphée. What matters to them is to see someone with a soloist's stature. I put more pressure on myself about that, in the sense that I don't want people to go to a performance and think: 'Who is he? He doesn't have the shoulders for this role!'."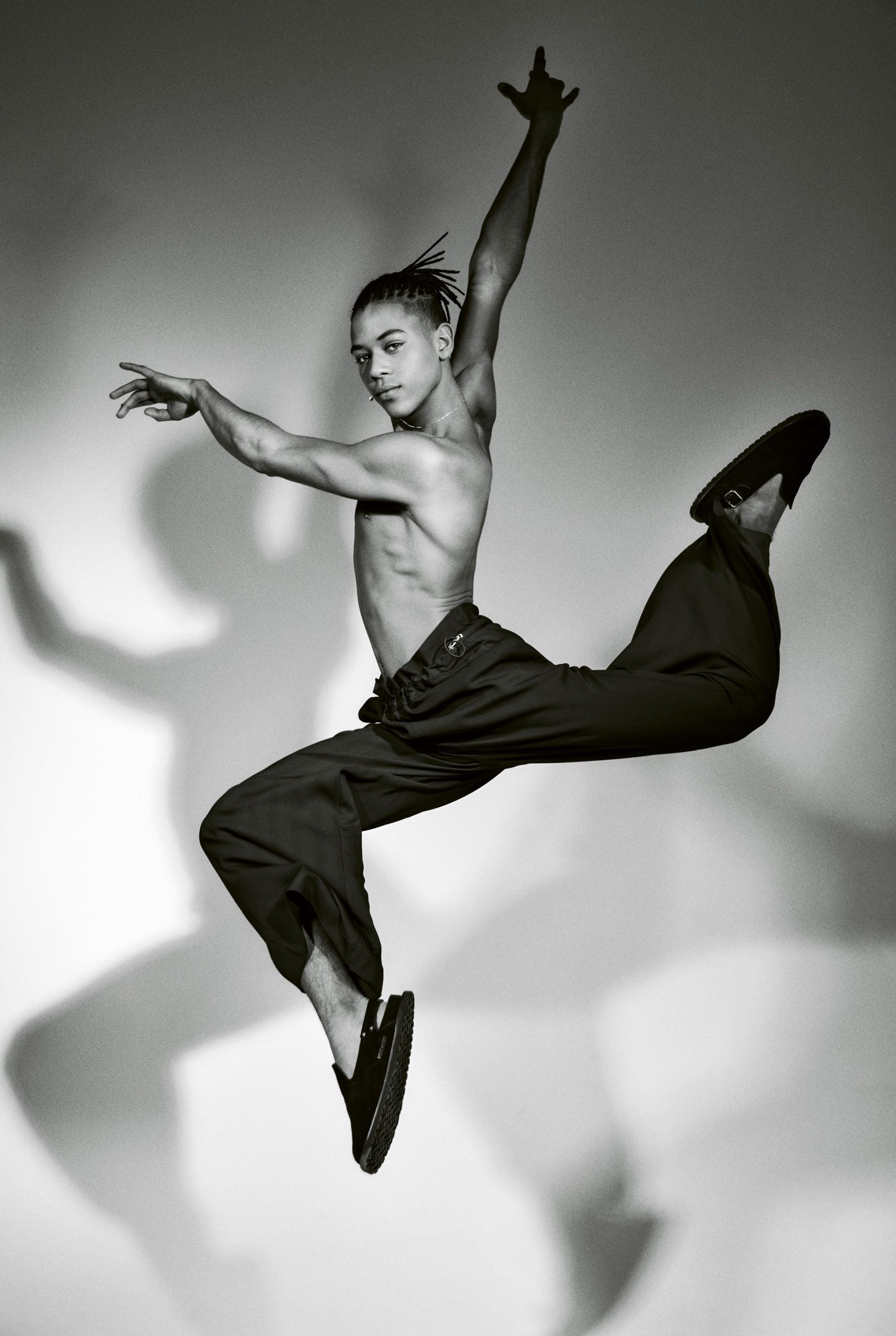 ÉTOILE AND ACTIVIST
If he is surprised by the dazzling evolution of his career, it is also perhaps because Guillaume Diop is part of the small group of Opera employees who decided to tackle a thorny issue not so long ago. In September 2020, a few months after the murder of George Floyd by police officer Derek Chauvin in Minneapolis, while anti-racist protests and demonstrations calling out police violence were multiplying around the world, the dancer, born in Paris to an French mother and a Senegalese father, realised that something was wrong. "When the whole Black Lives Matter movement started to gain momentum and we saw everything happening in the world, it really made us reflect about our own condition. We saw that Nederlands Dans Theater, American Ballet Theatre and many other dance companies were speaking out on these issues. Over here, nothing at all… » This « we » he is referring to is the small group he forms with Letizia Galloni, Jack Gasztowtt, Awa Joannais and Isaac Lopes Gomes, the five Black and mixed-race dancers of the Paris Opera Ballet (which has 154 members in total). « I remember, we took it as a lack of consideration, and it made us wonder. We felt like the Opera was not interested in this movement, which was of worldwide proportions. And that's when we felt it was time to move things forward in a constructive way and through dialogue." This statement was coordinated by Binkady-Emmanuel Hié – at the time event project manager and public relations officer at AROP (Association pour le rayonnement de l'Opéra de Paris), which today is dedicated to managing the image of artists and promoting diversity in the field of culture – in the form of a manifesto: De la question raciale à l'Opéra de Paris (On the racial question at the Paris Opera Ballet, translator's note). Sent to its 1,895 employees, and signed in return by almost 400 of them, it was written by these five dancers of various ranks, joined by the voices of Christian Rodrigue Moungoungou and Florent Mbia, the two African baritones of the Opera's choir.
In this respectful yet resolute text, they report some timid progress without trying to get on the good side of an institution that many consider to be a second home: « The Opera now includes People of Colour in its artistic, technical and administrative ranks. Nevertheless, the stigma of racial discrimination is still present in 21st century French society. The Paris Opera, a noble institution that we serve with passion, is no exception to the rule: problematic practices persist, certain discriminatory discourses could be tackled more effectively and our artistic powers still lack diversity." These 'practices' include both problems related to the day-to-day organisation of the artists' work (difficult access to make-up, tights or pointe shoes adapted to the skin tones of racialised dancers, for instance) and structural changes to be made to the institution and its culture. Since classical ballet as we know it today was largely formalised at a time when France was still a colonial power, it was not uncommon until recently to see dancers wearing blackface to interpret exoticizing roles, or to witness a sequence called the  »danse des négrillons » (dance of the N-word, translator's note) when going to see a performance of La Bayadère.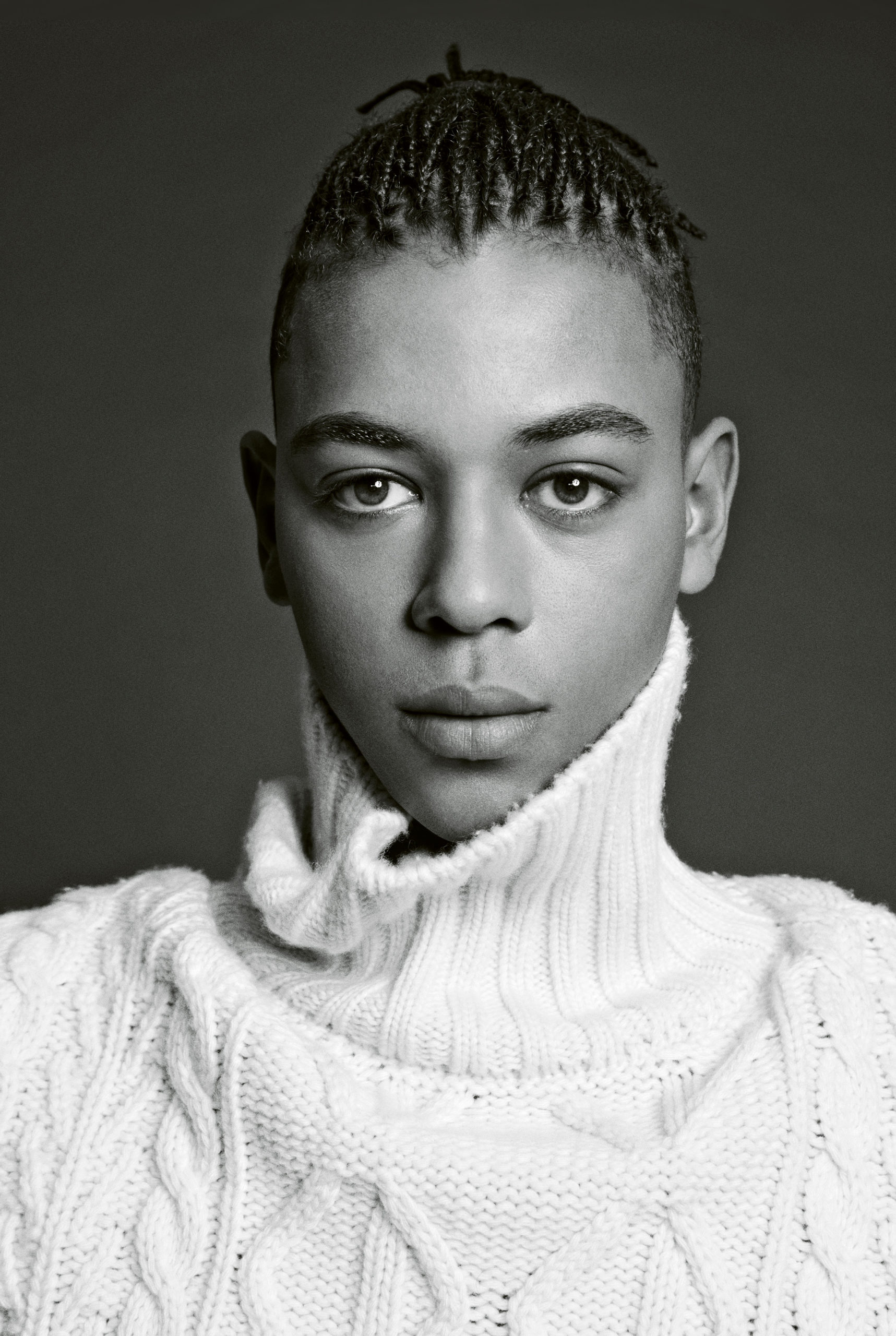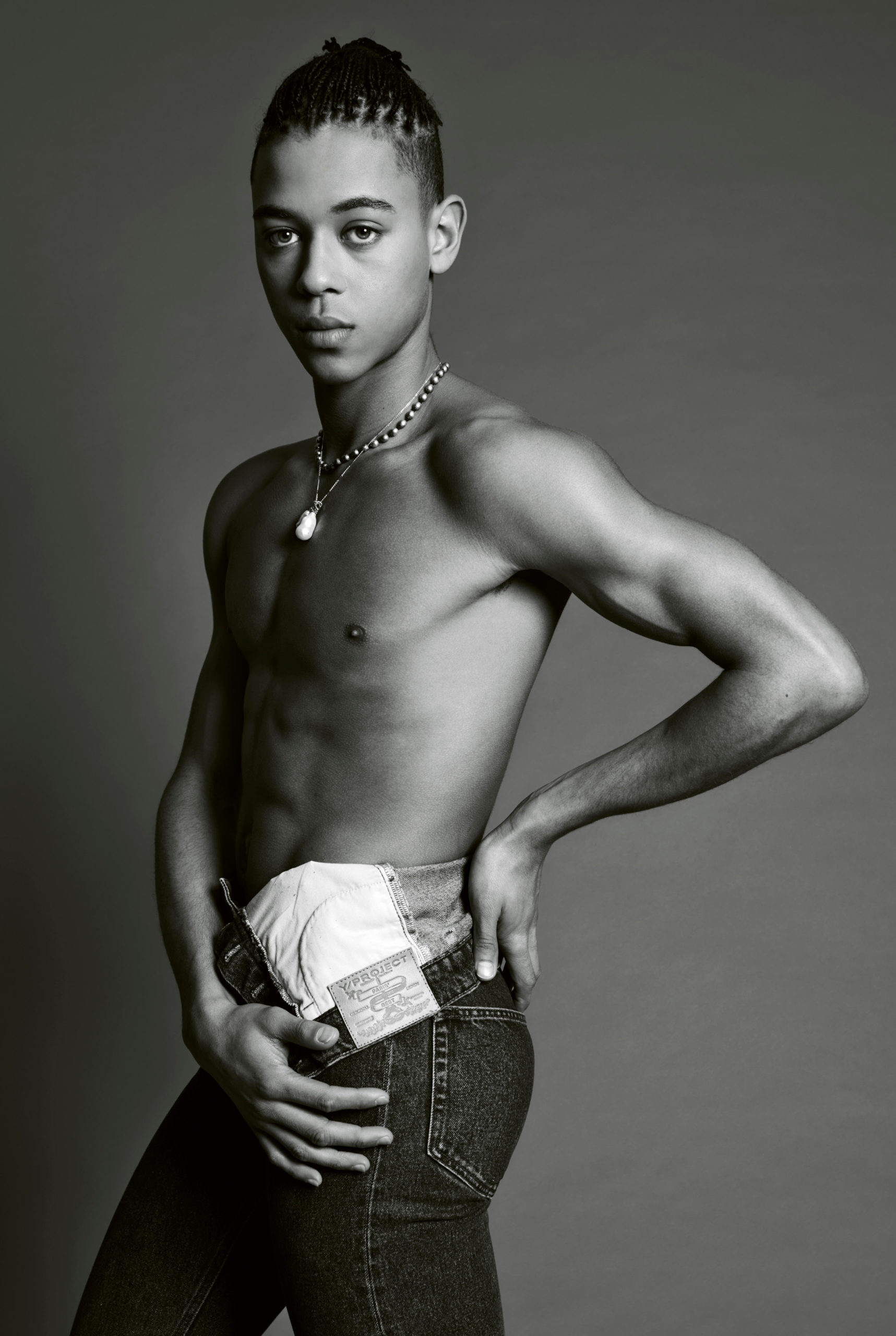 SOME PROGRESS BUT QUESTIONS REMAIN
A year and a half later, the dancer believes the atmosphere within the institution has changed. « Beyond the number of signatures, I think that everyone has thought about these questions. And ultimately, our aim was for people to at least take the time to reflect on these questions and engage in discussions around the issue. I think a lot of them didn't necessarily think about it, and the simple fact we talked about it helped them to realise certain things, what is acceptable and what's not, and also how we, the ones it affects directly, deal with this situation. » First attempted by Benjamin Millepied, director of dance at the Paris Opera from 2014 to 2016 – who wanted to implement more diversity within the ballet, but was met with the argument that having non-whites dance would be « a distraction » – the process of transformation was this time enabled by Aurélie Dupont, the étoile who succeeded him in that position, and Alexander Neef, director of the Opera since September 1st 2020. Described by Guillaume Diop as "a benevolent, hyper-understanding and attentive interlocutor", he presented at a press conference in February 2021 the conclusions of the report on diversity within the institution, commissioned in the wake of the manifesto from historian Pap Ndiaye and Secretary general of the Human Rights Commissioner, Constance Rivière. The result? « The end of the highly questionable practice of blackface and make-up for stereotypical roles in all productions », the adaptation of « work tools, such as make-up and clothing, to different skin colours », « the contextualisation » of certain works, and an effort to broaden the recruitment process for the Opera's artists, and in so doing to diversify the audience – the idea being that, by seeing themselves represented on stage, children from a wider range of backgrounds could become interested in classical dance.
When asked if such an evolution makes him fear that his dancing skills, charisma and joie de vivre on stage will be put forward only as a symbolic effort to seem inclusive, Guillaume Diop replies frankly: « When I talk to other POC, this is what often comes up: sometimes when we don't get something, it's because of our skin colour; and when we do get something, we tend to think it's also because of our skin colour. It scares me a little bit, I think about it, and I know a lot of people also think it's the reason why it's happening to me, which is quite complicated to deal with. But to reassure myself, I try to focus on the fact that I work very hard, and that if I have what I have, it's also because I'm capable of it. » Capable of this and much more, that's for sure, judging by the determination he displays when asked what he has yet to achieve: « Getting to dance the role of Romeo was truly a big dream of mine. Now I'd love to do Siegfried in Swan Lake, which I think is a really wonderful role."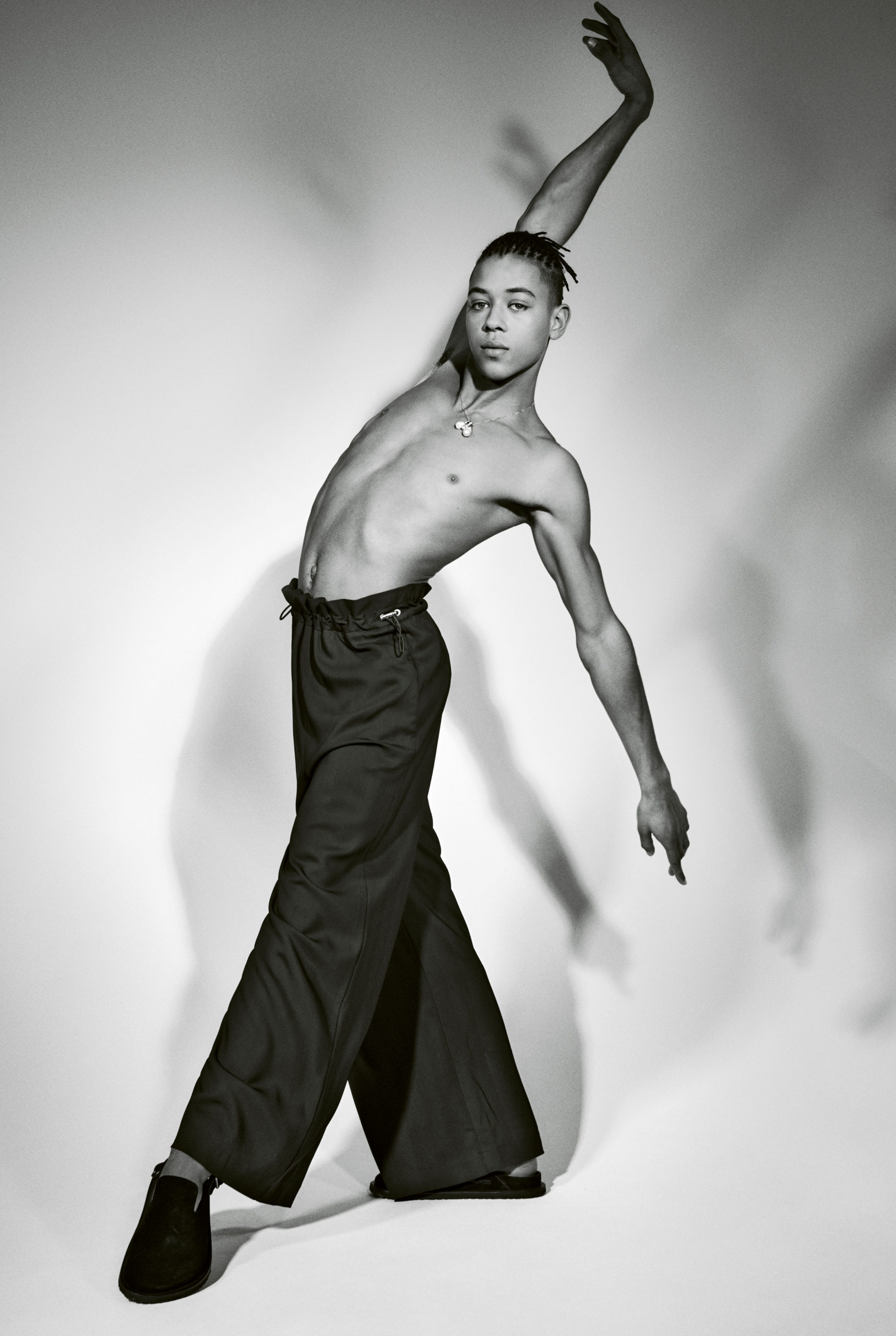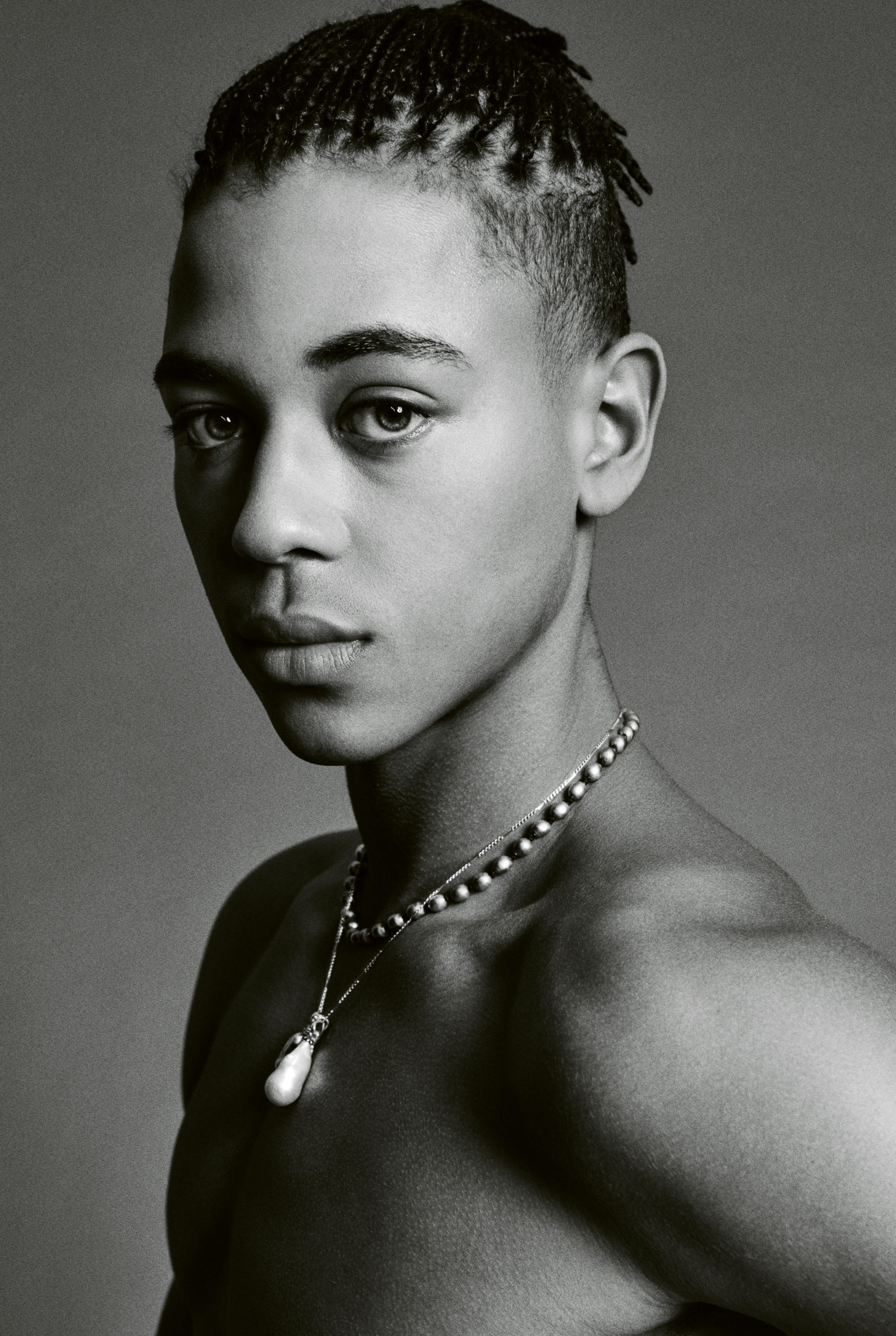 PHOTO: BOJANA TATARSKA / STYLING: LARA CVIKLINSKI / GROOMING: CHRISTELLE LAROMANIÈRE / LIGHT ASSISTANT: STAN REY-GRANGE / DIGITECH: BENOÎT SOUALLE – NEON CAPTURE